Endurance GB Newsletter
Leics & Rutland Endurance GB Group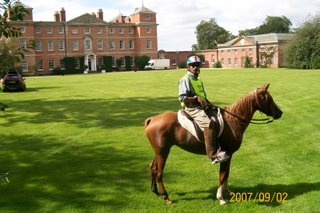 Congratulations!
Daniel Videla
Upgrading in 'ONE' season from Novice - Open to Advanced as a Rider.
Riding two horses Northwood Lass 11yr Arab x mare and Island Columbus 11 yr Arab gelding.
Daniel has a new 3yr Arab gelding Kazaiyid to bring into ridden work keeping him busy this winter . Daniel is from Mendoza , Argentina and is returning to the UK for Christmas and New Year . But he will be returning on the 7th Jan as he is in respsonsible for all the horses & people for two treks 150km across the Andes from Mendoza to Chile . The first is for The Princes Trust and the second is for the Antony Nolan Trust . If anyone fancies a horse holiday in Argentina and adventure of a lifetime just contact Fiona for details fififairhurst@hotmail.com
Gillian Hasberry
Upgrading from Open to Advanced with her Connemara St Flannnans Niamh at the College ride in September by passing and gaining a Grade 1.
They have also qualified for the British Dressage Winter Regionals at Preliminary and Novice Level. Last but not least thye also won the Endurance Trophy in the Connemara Performance Award Scheme plus 3 other trophies .