Horsetalk.co.nz
February 20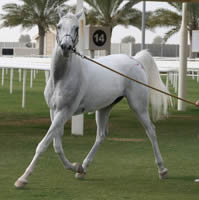 Top New Zealand-bred horse Dell Hama, who is currently equal second in the FEI's world endurance horse rankings.
Picture: Endurance.net
New Zealand horses and riders have featured prominently in the recently released 2008 FEI World Rankings.
The FEI has added two new categories to the rankings, the Open Horse and Junior/Young Rider Horse categories. Rankings include events up to 11 February.
In the Open Horse category, Dell Hama is equal second with fellow New Zealand-bred Rhan. Dell Hama won the 2008 Dubai World Challenge earlier this month, and Rhan was the victor in the South Island 160km championship last month.
Of the riders, New Zealand's Alison Higgins (11) is the sole non-UAE rider in the registered rider world ranking list, which is topped by Hamad Mohd Al Ahbabi.
In the Junior/Young Rider rankings, Kiwi Jaime Heywood is third equal. Vigar Shamah is ranked third in the junior/young rider horse rankings.