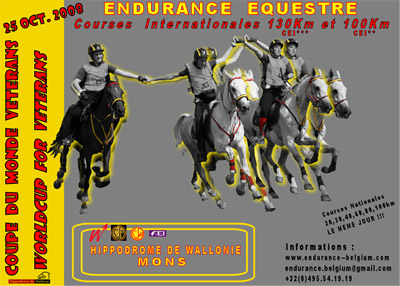 Chers amis, Dear friends
La Belgique organise la premiere Coupe du Monde Veterans a Mons. Mons est idealement situe, non loin de la frontiere francaise, le long de l'autoroute E42. Donc d'un acces rapide et aise pour nos amis francais.
Belgium organizes the first Endurance WorldCup for Veterans in Mons. The city of Mons is ideally located near the French border, along the E42 motorway.
Le nouvel Hippodrome de Wallonie accueillera l'evenement. De superbes installations pour recevoir au mieux les chevaux, les cavaliers et les suiveurs. Pour le logement, pas de soucis car il existe de nombreux hotels, gites ou chambres d'hotes pour toutes les bourses.
The new " Wallonia Racetrack " will be the venue of the event. This is a superb venue to welcome at its best horses, riders and crew members, as well as spectators. As far as accommodation is concerned, no problem at all as there are many hotels, B&B or others for all budgets.
Deux courses au programme :
- La Coupe du Monde Veterans - une CEI*** de 130km, avec egalement un classement Open. Tous les cavaliers peuvent donc prendre le depart. Les plus de 45 ans concourent pour la Coupe du Monde, les autres seront classes en Open
- Une CEI** de 100km
Two races will be organized :
- The WorldCup for Veterans (OPEN) – one CEI*** on the distance of 130km which also includes an OPEN ranking. All riders are entitled to participate. The riders aged more than 45years are competing for the WorldCup, the others will make part of the Open ranking.
- One CEI** of 100km
Echange de chevaux
Nous tentons de mettre sur pied un systeme d'echange de chevaux entre cavaliers proches (Belges/Francais/Allemands/Hollandais) et des cavaliers nettement plus eloignes, venant notamment d'autres continents.
Le principe est simple : vous pretez un cheval pour cette course et en retour le cavalier etranger vous offrira de monter l'un de ses chevaux chez lui, a une course de votre choix, a determiner en bilateral. C'est l'occasion de connaitre d'autres cavaliers, de s'ouvrir a d'autres horizons, de voyager…
Nous ferons l'interface entre les offres et les demandes en essayant de trouver les meilleures combinaisons possibles.
Donc n'hesitez pas a nous contacter pour nous faire votre proposition.
Leasing of horses
We are trying to set up a system for a free leasing between riders from the neighborhoods (Belgium/France/Germany/Holland) and overseas riders.
Principe is simple : a neighborhood rider offers one horse to ride to an overseas rider and in return, the foreign rider will offer a horse to ride in his country. This is a good opportunity to learn to know other riders, other rides and discover new horizons…
We will be keen to provide an interface between the offers and the requests, trying to find the best combinations.
Don't hesitate to contact us to propose your deal.
Nous comptons sur vous.
Meilleures amities sportives,
Kind regards
Pour le Comite organisateur
Leonard Liesens
Email : endurance.belgium@gmail.com
Tel : +32(0)498.16.93.12